One-on-one with Andrea Garganico, Head of Product at Smartpricing
In this article, we interview Andrea Garganico, Head of Product at Smartpricing.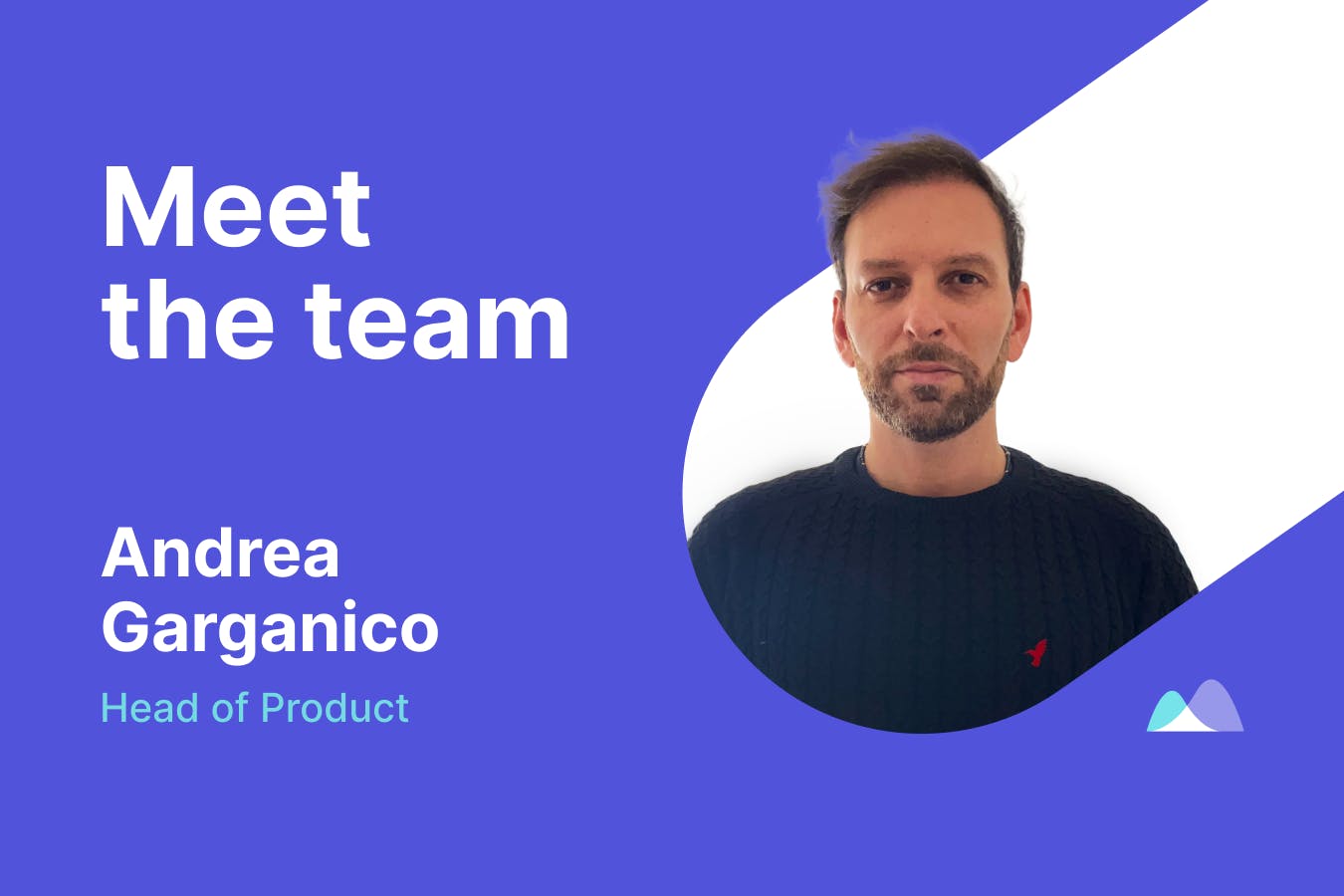 How long have you been working at Smartpricing and what do you do?
I have been working here since September 12, 2022, the day I started my training week in the Arco (TN) office.
I am Head of Product, responsible for managing and optimizing Smartpricing's functionality.
What does your typical day consist of?
Every morning I start with a stand-up meeting together with the rest of the product team and those who manage the machine learning part. 
Here everyone quickly shares what tasks they did the day before, what they are going to do in the following hours, and if there is anything holding them back in their implementation. 
Apart from this moment, my typical day is always different, and I would rather talk about a typical week.
During the week, I have continuous alignment meetings with the managers of the other business teams.
What do you think are the skills needed to do your job?
Practical and soft skills are needed to do my job.
First and foremost, it is essential to make yourself understood and to be able to speak in front of an audience in a fluent manner, as I interface frequently with colleagues from other teams.
In addition, it is necessary to be able to plan, both in the short and long term, and to have excellent time management.
These are the soft skills. 
As for practical skills, I think it is essential to analyze and interpret data in order to continue to improve the product.
I am not a data scientist, but it is important that I can think analytically and be guided by what the numbers say. 
Numbers are crucial because they provide an objective view of the situation.
Beyond that it is also important to know the technology, to understand how distributed systems work, cloud systems, what the front-end and back-end is.
To work at Smartpricing it is also important to know the hotel industry and revenue management. 
At first, I did not have these skills, but by studying I acquired all the information I needed.
Even those who do not come from the industry can easily work here if they train and fill in the gaps.
How does Smartpricing's culture help you do your best?
I admire Smartpricing's values and culture, but I would like to mention one in particular: radical candor.
According to this value, everyone can give direct feedback with the goal of finding a solution to problems.
This is why my colleagues and I frequently exchange candid feedback while remaining respectful of the other person.
This is something I really appreciate because in my past work experiences I did not have the opportunity to do this.
When people ask you what it is like to work at Smartpricing, what do you say?
You work in a fast-growing company, and this leads to two opposing scenarios.
On the one hand there is order in the various processes, while on the other hand some would need to be optimized or even built from scratch.
The positive aspect of all this is that those who join Smartpricing know that their actions and activities will have a direct impact on the future of the company.
What do you like best about Smartpricing?
At Smartpricing all the people on the team are moved by a common goal, and this makes me feel part of something very important.
In addition, every colleague is always ready to help others, making the work climate great.
Finally, I cannot fail to mention the possibility of working remotely; I only need a computer to carry out my profession directly from home. 
This is crucial for me because I have more quality time to devote to my family and their needs.
What does Smartpricing have that other companies don't?
There are very clear written principles here, thanks to them everyone knows which direction to follow together.
As a testament to this, during the first day of training, I received a welcome kit with a Smartpricing culture document inside.  
In other companies, on the contrary, values are often unclear or unknown and do not allow employees to know how the entrepreneur wants to develop the company.
Why did you choose Smartpricing?
I chose Smartpricing for two reasons.
On the practical side, I was looking for a company that would allow me to work remotely and that was not a fledgling startup, but a company with the foundation for a solid future.
On the human side, I was pleasantly impressed by the people I interviewed with.
Specifically by Alessio Zanut (Full Stack Developer), who proved to be an empathetic and kind person, and Luca Rodella, co-founder and CEO of Smartpricing.
It was a pleasant surprise to talk transparently with him, sharing some of the failures I experienced in the span of my work experience.
This made for a solid bond from the start, which then convinced me to accept Smartpricing's proposal over the others.
What would you say to people who want to join Smartpricing?
This is the right place where you can make mistakes and where we are encouraged to make mistakes.
At Smartpricing, making mistakes means having been resourceful and not sitting idle.
Making mistakes also means learning, and in this way, those who work at Smartpricing do not feel the pressure of having to perform everything perfectly.
---